Vendor- Shapiro, B.A.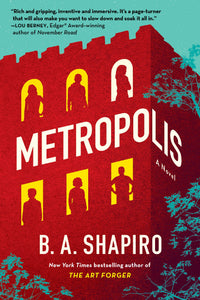 Metropolis
Shapiro, B.A.
Regular price $17.99 Sale
Six people, six secrets, six different backgrounds. They would never have met if not for their connection to the Metropolis Storage Warehouse in Cambridge, Massachusetts. When someone falls down an elevator shaft at the facility, each of the six becomes caught up in an intensifying chain of events.

We meet Serge, an unstable but brilliant street photographer who lives in his storage unit; Marta, an undocumented immigrant finishing her dissertation and hiding from ICE; Liddy, an abused wife and mother who recreates her children's bedroom in her unit; Jason, a former corporate lawyer now practicing in the facility; Rose, the office manager, who takes illegal kickbacks to let renters live in the building; and Zach, an ex–drug dealer and now the building's owner, who scans Serge's photos as he searches for clues to the accident.

But was it an accident? A murder attempt? Suicide? As her characters dip in and out of one another's lives trying to find answers and battling societal forces beyond their control, B. A. Shapiro questions the myth of the American dream and builds tension to an exhilarating climax.