Vendor- Celan, Paul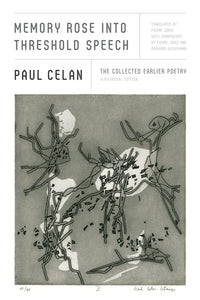 Memory Rose into Threshold Speech
Celan, Paul
Regular price $35.00 Sale
Celan, a Bukovinian Jew who lived through the Holocaust, created work that displays both great lyric power and an uncanny ability to pinpoint totalitarian cultural and political tendencies. His quest, however, is not only reflective: there is in Celan's writing a profound need and desire to create a new, inhabitable world and a new language for it. In Memory Rose into Threshold Speech, Celan's reader witnesses his poetry, which starts lush with surrealistic imagery, become gradually pared down; its syntax tightens and his trademark neologisms and word formations increase toward a polysemic language of great accuracy that tries, in the poet's own words, "to measure the area of the given and the possible."

Translated by the prize-winning poet and translator Pierre Joris, this bilingual edition follows the 2014 publication of Breathturn into Timestead, Celan's collected later poetry. All nine volumes of Celan's poetry are now available in Joris's carefully crafted translations, accompanied here by a new introduction, as well as extensive commentary by Joris and Barbara Wiedemann. The four volumes in this edition show the flowering of one of the major literary figures of the last century.

This volume collects Celan's first four books: Mohn und Gedächtnis (Poppy and Memory), Von Schwelle zu Schwelle (Threshold to Threshold), Sprachgitter (Speechgrille), and Die Niemandsrose (NoOnesRose).
Paperback, Nov 15th 2022