Vendor- Henry Holt & Company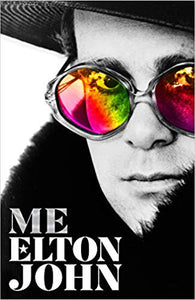 Me: Elton John Official Autobiography, by Elton John
Henry Holt & Company
Regular price $30.00 Sale
In his first and only official autobiography, music icon Elton John reveals the truth about his extraordinary life, from his rollercoaster lifestyle as shown in the film Rocketman, to becoming a living legend.
Christened Reginald Dwight, he was a shy boy with Buddy Holly glasses who grew up in the London suburb of Pinner and dreamed of becoming a pop star. By the age of twenty-three he was performing his first gig in America, facing an astonished audience in his bright yellow dungarees, a star-spangled T-shirt, and boots with wings. Elton John had arrived and the music world would never be the same again.
His life has been full of drama, from the early rejection of his work with song-writing partner Bernie Taupin to spinning out of control as a chart-topping superstar; from half-heartedly trying to drown himself in his LA swimming pool to disco-dancing with Princess Diana and Queen Elizabeth; from friendships with John Lennon, Freddie Mercury, and George Michael to setting up his AIDS Foundation to conquering Broadway with Aida, The Lion King, and Billy Elliot the Musical. All the while Elton was hiding a drug addiction that would grip him for over a decade.
In Me, Elton also writes powerfully about getting clean and changing his life, about finding love with David Furnish and becoming a father. In a voice that is warm, humble, and open, this is Elton on his music and his relationships, his passions and his mistakes. This is a story that will stay with you by a living legend.
"[Me] pushes the envelope. . . . The movie Rocketman gave a reasonably accurate overview of the Elton John story―but it barely scratched the surface of what's in this memoir. The lurid parts will get all the headlines. But [it is really about] the man's hard-won self-knowledge. . . . [Me] surely has something for everyone. . . . A gift."
―The New York Times
"Thought you got all of Elton John's story in the rollicking biopic, Rocketman? Well, consider that merely a tasty appetizer ahead of this ultra-rich and heavy dinner."
―NBC News
"Magnificent. . . . While Me is as colorful as you'd expect from an artist famous for his outlandish stage costumes and outsize temper tantrums, it is also so much more. . . . Fans who think seeing Rocketman was enough and can 'eventually' read his memoir, we can tell you: do not wait a long, long time. Me is a riveting, laugh-til-you-cry, heartfelt page-turner."
―Entertainment Weekly
"A uniquely revealing pop star autobiography. . . . Me is essential reading for anyone who wants to know the difficult road that [Elton has] walked."
―Rolling Stone
"By turn hilarious, touching, and surprising. . . . In between the countless anecdotes with stars from across the decades, John's enthusiasm for music continues to shine through. . . . It's wonderful to read [and] compelling evidence that Elton John was born to be [a star]."
―The Independent
Sir Elton John, CBE, is a multi-award winning solo artist who has achieved 38 gold and 31 platinum or multi-platinum albums, has sold more than 300 million records worldwide, and holds the record for the biggest-selling single of all time, 'Candle in the Wind 1997'. In August 2018 Elton was named the most successful male solo artist in the Billboard Hot 100 chart history, having logged 67 entries, including nine Number 1s and 27 Top 10s. Elton launched his first tour in 1970 and since then has performed over 4,000 times in more than 80 countries. When not recording or touring, Elton devotes his time to a number of charities, including his own Elton John AIDS Foundation, which has raised over $300 million and funded programmes across four continents in the twenty-four years it has existed. He is married to David Furnish, and they have two sons. Me is his first and only official autobiography.
October 15, 2019