Vendor- Ray, Jean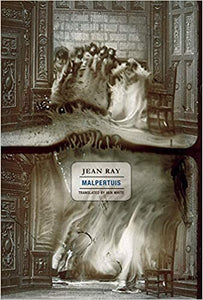 Malpertius
Ray, Jean
Regular price $15.95 Sale
A reinvention of the Gothic novel and an established classic of fantastic literature, Malpertuis is as inventive and gripping today as when it first appeared in French in the dark year of 1943.

Malpertuis is a puzzle box of nested narratives wrested from a set of manuscripts stolen from a monastery. A bizarre collection of distrustful relatives has gathered together in the ancient stone mansion of a sea-trading dynasty for the impending death of the occult scientist, Uncle Cassave, and the reading of his will. Forced to dwell together for the remainder of their lives within the stifling walls of Malpertuis for the sake of a cursed inheritance, their banal existence gradually gives way to love affairs and secret plots, as the building slowly exposes a malevolence that eventually leads to a series of ghastly deaths.

The eccentric personalities it houses―which include an obsessive taxidermist, a hypochondriac, a trio of vengeful sisters and a former paint store manager who has gone mad―begin to shed like skins to reveal yet another hidden story buried in the novel's structure, one that turns the haunted-house tradition on its head and culminates in an apocalyptic denouement.
Paperback, Oct 5th 2021