Vendor- Lieberman, Jeffrey A.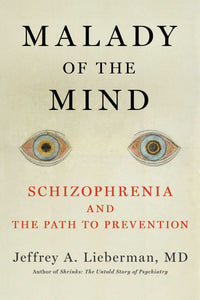 Malady of the Mind: Schizophrenia and the Path of Prevention
Lieberman, Jeffrey A.
Regular price $30.00 Sale
This powerful portrait of schizophrenia, the most malignant and mysterious mental illness, by renowned psychiatrist Jeffrey Lieberman, interweaves cultural and scientific history with dramatic patient profiles and clinical experiences to impart a revolutionary message of hope. For the first time in history, we can effectively treat schizophrenia, limiting its disabling effects—and we're on the verge of being able to prevent the disease's onset entirely.

In this rigorously researched, profoundly compelling biography of schizophrenia, Dr. Jeffrey Lieberman draws on his four-decade career to illuminate the past, present, and future of this historically dreaded and devastating illness. From his vantage point at the pinnacle of academic psychiatry, informed by extensive research experience and clinical care of thousands of patients, Dr. Lieberman explains how the complexity of the brain, the checkered history of psychiatric medicine, and centuries of stigma combined with misguided legislation and health care policies have impeded scientific advances and clinical progress. Despite this, there is reason for optimism: by offering evidence-based treatments that combine medication with psychosocial services and principles learned from the recovery movement, doctors can now effectively treat schizophrenia by diagnosing patients at a very early stage, achieving a mutually respectful therapeutic alliance, and preventing relapse, thus limiting the progression of the illness. Even more auspiciously, decades of work on diagnosis, detection, and early intervention have pushed scientific progress to the cusp of prevention—meaning that in the near future, doctors may be able to prevent the onset of this disorder.

A must-read for fans of medical histories, psychology, and those whose lives have been affected by schizophrenia, this revelatory work offers a comprehensive scientific portrait, crucial insights, sound advice for families and friends, and most importantly, hope for sufferers now and in the generations to come.
Hardcover, Feb 21st 2023