Vendor- Cohen, Richard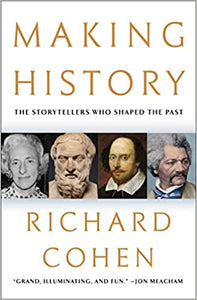 Making History: The Storytellers who Shaped the Past
Cohen, Richard
Regular price $40.00 Sale
There are many stories we can spin about previous ages, but which accounts get told? And by whom? Is there even such a thing as "objective" history? In this lively and thought-provoking book, Richard Cohen reveals how professional historians and other equally significant witnesses, such as the writers of the Bible, novelists, and political propagandists, influence what becomes the accepted record. Cohen argues, for example, that some historians are practitioners of "Bad History" and twist reality to glorify themselves or their country.


Making History

 
investigates the published works and private utterances of our greatest chroniclers to discover the agendas that informed their—and our—views of the world. From the origins of history writing, when such an activity itself seemed revolutionary, through to television and the digital age, Cohen brings captivating figures to vivid light
,
 from Thucydides and Tacitus to Voltaire and Gibbon, Winston Churchill and Henry Louis Gates. Rich in complex truths and surprising anecdotes, the result is a revealing exploration of both the aims and art of history-making, one that will lead us to rethink how we learn about our past and about ourselves.