Vendor- Houghton Mifflin Harcourt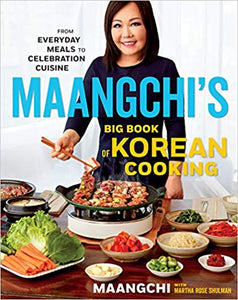 Maangchi's Big Book of Korean Cooking: From Everyday Meals to Celebration Cuisine, by Maangchi
Houghton Mifflin Harcourt
Regular price $35.00 Sale
The definitive book on Korean cuisine by "YouTube's Korean Julia Child"* and the author of Maangchi's Real Korean Cooking
*New York Times

Despite the huge popularity of Korean restaurants, there has been no comprehensive book on Korean cooking—until now. Maangchi's Big Book of Korean Cooking is a wide, deep journey to the heart of a food-obsessed culture.

The book contains the favorite dishes Maangchi has perfected over the years, from Korean barbecue and fried chicken to bulgogi and bibimbap. It explores topics not covered in other Korean cookbooks, from the vegan fare of Buddhist mountain temples to the inventive snacks of street vendors to the healthful, beautiful lunch boxes Korean mothers make for their kids. Maangchi has updated and improved the traditional dishes, without losing their authentic spirit.
Among the features:
• Spectacular party food, from homemade clear rice liquor to sweet, spicy, sour baby back ribs
• Side plates that support and complement every Korean meal
• Soups, hotpots, and stews, from bone broth to tofu stews
• An array of different kimchis
• A detailed photographic chapter on Korean cooking techniques

Hundreds of striking, full-color photos by Maangchi show Korean ingredients so the cook knows exactly what to buy, step-by-step techniques for each recipe, and tempting close-ups of every dish.
"Maangchi's Big Book of Korean Cooking: From Everyday Meals to Celebration Cuisine is her second book, an even more comprehensive take on Korean home cooking than the first — think Julia Child's iconic Mastering the Art of French Cooking, but with bibimbap."
—Eater

"Reading Maangchi's Big Book of Korean Cooking is like being on a WhatsApp chain with my friends' moms. There are photos of ingredients to buy (Sempio soy sauce, tubes of soft tofu) and recipes that go beyond KBBQ (chicken ginseng soup, Korean temple–style vegetables), all in the same tone that makes Maangchi feel like everyone's auntie."
—Elyse Inamine, digital restaurant editor, for Bon Appetit
MAANGCHI ("Hammer" in Korean) was born and raised in South Korea, where she learned the fundamentals of home cooking from her relatives. A former counselor for victims of domestic violence and movie extra, she is the founder-owner of maangchi.com, the top online destination for Korean cooking. She also has her own YouTube channel. She lives in New York City.
October 29, 2019