Vendor- Anchor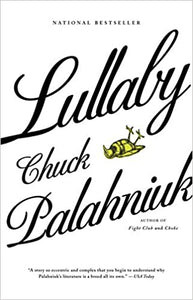 Lullaby, by Chuck Palahniuk
Anchor
Regular price $16.95 $9.98 Sale
From the author of the "New York Times bestseller "Choke and the cult classic "Fight Club, a cunningly plotted novel about the ultimate verbal weapon, one that reinvents the apocalyptic thriller for our times.
Carl Streator is a solitary widower and a fortyish newspaper reporter who is assigned to do a series of articles on Sudden Infant Death Syndrome. In the course of this investigation he discovers an ominous thread: the presence at the death scenes of the anthology "Poems and Rhymes Around the World, all opened to the page where there appears an African chant, or "culling song." This song turns out to be lethal when spoken or even "thought in anyone's direction-and once it lodges in Streator's brain he finds himself becoming an involuntary serial killer. So he teams up with a real estate broker, one Helen Hoover Boyle-who specializes in selling haunted (or "distressed") houses (wonderfully high turnover), and who lost a child to the culling song years before-for a cross-country odyssey to remove all copies of the book from libraries, lest this deadly verbal virus spread and wipe out human life. Accompanying them on this road trip are Helen's assistant, Mona Sabbat, an exquisitely earnest Wiccan, and her sardonic ecoterrorist boyfriend Oyster, who is running a scam involving fake liability claims and business blackmail. Welcome to the new nuclear family.
On one level, "Lullaby is a chillingly pertinent parable about the dangers of psychic infection and control in an era of wildly overproliferated information: "Imagine a plague you catch through your ears . . . imagine an idea that occupies your mind like a city." But it is also a tightly wound thriller with an intriguingpremise and a suspenseful plot full of surprising twists and turns. Finally, because it is a Chuck Palahniuk novel, it is a blackly comic tour de force that reinforces his stature as our funniest nihilist and a contemporary seer.

Written with a style and imagination that could only come from Chuck Palahniuk, Lullaby is the latest outrage from one of our most exciting writers at work today.
"A story so eccentric and complex that you begin to understand why Palahniuk's literature is a breed all its own." —USA Today

"Mr. Palahniuk further refines his ability to create parables that are as substantial as they are off-the-wall." —The New York Times

"That most rambunctious of American novelists, Chuck Palahniuk, is at it again. . . . There's so much comic energy, so much manic imagination, so much satirical fire on display." —Newsday

"Dark riffing on modernity is the reason people read Palahniuk. His books are not so much novels as jagged fables, cautionary tales about the creeping peril represented by almost everything." —Time

"Genius-on-sixteen-different-levels . . . constantly surprising, disturbingly funny . . . Genuinely subversive." —BookForum

"Among sick puppies, Palahniuk is the top dog. . . . A unique talent." —People

"More twisted than a sack of pretzels and edgier than an octagon, Chuck Palahniuk has pumped out another memorable read. . . This is his best yet." —Playboy