Vendor- Ali, Monica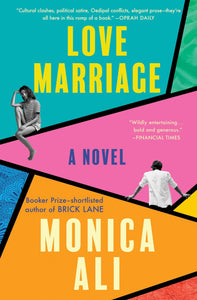 Love Marriage
Ali, Monica
Regular price $18.00 Sale
In present-day London, Yasmin Ghorami is twenty-six, in training to be a doctor (like her Indian-born father), and engaged to the charismatic, upper-class Joe Sangster, whose formidable mother, Harriet, is a famous feminist. The gulf between families is vast. So, too, is the gulf in sexual experience between Yasmin and Joe.

As the wedding day draws near, misunderstandings, infidelities, and long-held secrets upend both Yasmin's relationship and that of her parents, a "love marriage," according to the family lore that Yasmin has believed all her life.

A gloriously acute observer of class, sexual mores, and the mysteries of the human heart, Monica Ali has written a "riveting" (BookPage, starred review) social comedy and a moving, revelatory story of two cultures, two families, and two people trying to understand one another that's "sure to please Ali's fans and win some new ones" (Publishers Weekly).
Paperback, Apr 4th 2023