Vendor- Adams, John Joseph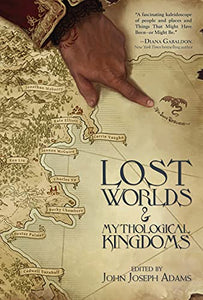 Lost Worlds & Mythological Kingdoms
Adams, John Joseph
From 
Twenty Thousand Leagues Under the Sea
 to 
Journey to the Center of the Earth
, from the fabled island of Avalon to the lost oasis of Zerzura, from 
The Land That Time Forgot
 to the golden city of El Dorado, storytellers have long imagined what exists beyond the edges of the map.
The need to seek and discover the unknown is embedded in who we are, no matter the culture or era. To celebrate this sense of wonder, award-winning editor John Joseph Adams has gathered together some of the best SF&F writers working today, collecting adventure and mystery in this spectacular anthology. With original contributions from Kate Elliott, Tobias S. Buckell, Dexter Palmer, E. Lily Yu, Jonathan Maberry, and a dozen more, there are short stories sure to enthrall every reader.
Explore the rich tradition begun centuries ago with this all-new compilation full of imagination and delights. What lies beyond the edge of the unknown? Only you, brave reader, can find out.