Vendor- Songsiridej, Alyssa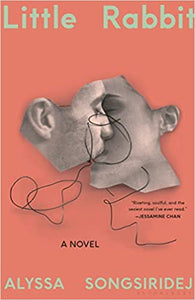 Little Rabbit
Songsiridej, Alyssa
Regular price $26.00 Sale
When the unnamed narrator of Little Rabbit first meets the choreographer at an artists' residency in Maine, it's not a match. She finds him loud, conceited, domineering. He thinks her serious, guarded, always running away to write. But when he reappears in her life in Boston and invites her to his dance company's performance, she's compelled to attend. Their interaction at the show sets off a summer of expanding her own body's boundaries: She follows the choreographer to his home in the Berkshires, to his apartment in New York, and into submission during sex. Her body learns to obediently follow his, and his desires quickly become inextricable from her pleasure. This must be happiness, right?

Back in Boston, her roommate Annie's skepticism amplifies her own doubts about these heady weekend retreats. What does it mean for a queer young woman to partner with an older man, for a fledgling artist to partner with an established one? Is she following her own agency, or is she merely following him? Does falling in love mean eviscerating yourself?

Combining the sticky sexual politics of Luster with the dizzying, perceptive intimacy of Cleanness, Little Rabbit is a wholly new kind of coming-of-age story about lust, punishment, artistic drive, and desires that defy the hard-won boundaries of the self.
hardcover, May 3rd 2022