Vendor- Tamblyn, Amber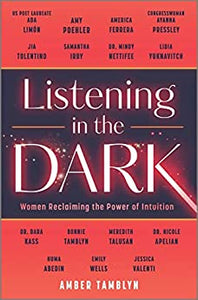 Listening in the Dark: Women Reclaiming the Power of Intuition
Tamblyn, Amber
Regular price $25.99 Sale
For generations, women have been taught to ignore their intuitive intelligence, whether in their personal lives or professional ones, in favor of making logical, evidence-based decisions. But what if that small voice or deeper knowing was our greatest gift, an untapped power we could use to affect positive change?

Edited by award-winning author, activist, and actress Amber Tamblyn, Listening in the Dark is a compilation of some of today's most striking women visionaries across industries—in literature, science, art, education, medicine, and politics—who share their experiences engaging with their own inner wisdom in pivotal, crossroad moments.

Filled with deeply personal and revelatory essays, Listening in the Dark will empower readers to reconnect with their own unique intuitive process, to see it as the precious resource it is, and to be unafraid to listen to all that it has to say and all that it has to offer. 
Hardcover, Oct 18th 2022