Vendor- Raffo, Susan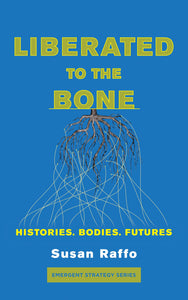 Liberated To the Bone: Histories. Bodies. Futures.
Raffo, Susan
Regular price $22.00 Sale

The newest title in the Emergent Strategy Series, Liberated to the Bone, addresses the intersections between healing our physical bodies and healing our social relations which are shaped by violence. Bodyworker and cultural worker Susan Raffo addresses intergenerational trauma, social justice, organizing, and how all of these things are relevant to our bodies. The book illuminates three different approaches to healing: ending violence, the significance of being rooted in the present, and creating the conditions to address unfinished histories and generational trauma. By showing how these approaches are intricately connected—physically and emotionally—Raffo interrupts the traumatic binaries of the political and spiritual, the physical and intellectual, and healing and organizing.
Paperback, Nov 15th 2022