Vendor- Williams, Eley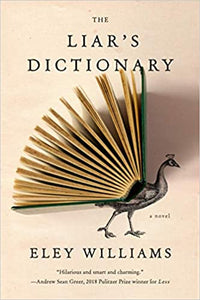 Liar's Dictionary, The
Williams, Eley
Regular price $26.95 Sale
Peter Winceworth, Victorian lexicographer, is toiling away at the letter S for Swansby's multivolume Encyclopaedic Dictionary. His disaffection compels him to insert unauthorized fictitious entries into the dictionary in an attempt to assert some sense of individual purpose and artistic freedom.

In the present day, Mallory, a young intern employed by the publisher, is tasked with uncovering these mountweazels before the work is digitized. She also has to contend with threatening phone calls from an anonymous caller. Is the change in the definition of marriage really that upsetting? And does the caller really intend for the Swansby's staff to 'burn in hell'?

As these two narratives combine, both Winceworth and Mallory discover how they might negotiate the complexities of the often nonsensical, relentless, untrustworthy, hoax-strewn, and undefinable path we call life. An exhilarating debut novel from a formidably brilliant young writer, The Liar's Dictionary celebrates the rigidity, fragility, absurdity, and joy of language.
Hardcover 1/5/21