Vendor- Brands, H. W.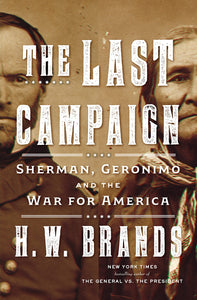 Last Campaign: Sherman, Geronimo and the War for America
Brands, H. W.
Regular price $32.50 Sale
William Tecumseh Sherman and Geronimo were keen strategists and bold soldiers, ruthless with their enemies. Over the course of the 1870s and 1880s these two war chiefs would confront each other in the final battle for what the American West would be: a sparsely settled, wild home where Indian tribes could thrive, or a more densely populated extension of the America to the east of the Mississippi.

Sherman was a well-connected son of Ohio who attended West Point and rose to prominence through his scorched-earth campaigns in the Civil War. Geronimo grew up among the Apache people, hunting wild game for sustenance and roaming freely on the land. After the brutal killing of his wife, children and mother by Mexican soldiers, he became a relentless avenger, raiding Mexican settlements across the American border. When Sherman rose to commanding general of the Army, he was tasked with bringing Geronimo and his followers onto a reservation where they would live as farmers and ranchers and roam no more. But Geronimo preferred to fight.

The Last Campaign is a powerful retelling of a turning point in the making of our nation and a searing elegy for a way of life that is gone.
Hardcover, Nov 1st 2022