Vendor- Holleran, Andrew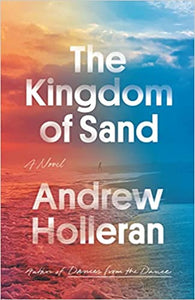 Kingdom of Sand
Holleran, Andrew
Regular price $27.00 Sale
The Kingdom of Sand is a poignant tale of desire and dread―Andrew Holleran's first new book in sixteen years. The nameless narrator is a gay man who moved to Florida to look after his aging parents―during the height of the AIDS epidemic―and has found himself unable to leave after their deaths. With gallows humor, he chronicles the indignities of growing old in a small town.

At the heart of the novel is the story of his friendship with Earl, whom he met cruising at the local boat ramp. For the last twenty years, he has been visiting Earl to watch classic films together and critique the neighbors. Earl is the only person in town with whom he can truly be himself. Now Earl's health is failing, and our increasingly misanthropic narrator must contend with the fact that once Earl dies, he will be completely alone. He distracts himself with sexual encounters at the video porn store and visits to Walgreens. All the while, he shares reflections on illness and death that are at once funny and heartbreaking.

Holleran's first novel, Dancer from the Dance, is widely regarded as a classic work of gay literature. Reviewers have described his subsequent books as beautiful, exhilarating, seductive, haunting, and bold. The Kingdom of Sand displays all of Holleran's considerable gifts; it's an elegy to sex and a stunningly honest exploration of loneliness and the endless need for human connection, especially as we count down our days.
Hardcover, June 7th 2022