Vendor- Tevis, Walter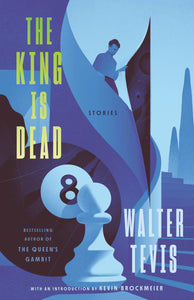 King is Dead: Stories
Tevis, Walter
Regular price $17.00 Sale
For the first time ever, a complete collection of short fiction the New York Times bestselling author of The Queen's Gambit

Walter Tevis is widely regarded as a master for both his gritty poolhall novels and his brilliant rendering of the world of competitive chess. This long overdue collection establishes Tevis's rightful place as a maestro of the short form, as well. Bringing together the 1981 short story collection Far From Home with a host of other previously unpublished stories from journals and magazines, this entertaining collection showcases Tevis's characteristic perceptiveness, empathy, and range.

In one story, a man receives a phone call from his future self and follows their instructions to unpreditcable, calamitous results. In another, a famous actor and a young actress showcase their talent for acting both on and off the stage. Here also are five short stories set in poolhalls, including one that features Fast Eddie Felson and another that was the basis for the novel The Hustler. Here also is his first fictional foray into chess, with a ranked chess player finding fellowship in the prison yard with another player.

In all of them, Tevis reminds again and again why his writing has long been revered for its roving curiosity and innate humanity.
Paperback, Feb 14th 2023