Vendor- Oxford University Press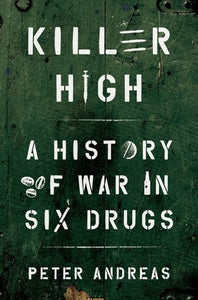 Killer High: A History of War in Six Drugs
Oxford University Press
Regular price $29.95 Sale
About the Author:
Peter Andreas is the John Hay Professor of International Studies at Brown University, where he holds a joint appointment between the Department of Political Science and the Watson Institute for International and Public Affairs. Andreas has published ten books, including Smuggler Nation: How Illicit Trade Made America. He has also written for publications such as Foreign Affairs, Foreign Policy, The Guardian, Harper's, The Nation, The New Republic, Slate, The New York Times, and The Washington Post. A graduate of Swarthmore College and Cornell University, he lives with his family in Providence, Rhode Island.
About the Book:
There is growing alarm over how drugs empower terrorists, insurgents, militias, and gangs. But by looking back not just years and decades but centuries, Peter Andreas reveals that the drugs-conflict nexus is actually an old story, and that powerful states have been its biggest beneficiaries.

In his path-breaking Killer High, Andreas shows how six psychoactive drugs-ranging from old to relatively new, mild to potent, licit to illicit, natural to synthetic-have proven to be particularly important war ingredients. This sweeping history tells the story of war from antiquity to the modern age through the lens of alcohol, tobacco, caffeine, opium, amphetamines, and cocaine. Beer and wine drenched ancient and medieval battlefields, and the distilling revolution lubricated the conquest and ethnic cleansing of the New World. Tobacco became globalized through soldiering, with soldiers hooked on smoking and governments hooked on taxing it. Caffeine and opium fueled imperial expansion and warfare. The commercialization of amphetamines in the twentieth century energized soldiers to fight harder, longer, and faster, while cocaine stimulated an increasingly militarized drug war that produced casualty numbers surpassing most civil wars. As Andreas demonstrates, armed conflict has become progressively more drugged with the introduction, mass production, and global spread of mind-altering substances. As a result, we cannot understand the history of war without including drugs, and we similarly cannot understand the history of drugs without including war. From ancient brews and battles to meth and modern warfare, drugs and war have grown up together and become addicted to each other.
Reviews:
"Since time immemorial, soldiers have consumed mind-altering substances; Andreas (International Studies/Brown Univ.; Smuggler Nation: How Illicit Trade Made America, 2013, etc.) delivers an impressive, often unsettling history of six." –Kirkus
"Killer High is a captivating book, laced with provocative insights about the enduring relationship between drugs and war and further enlivened with entertaining flashes of wit."—Andrew Bacevich, author of The Age of Illusions:  How Americans Squandered Their Cold War Victory
"Peter Andreas always writes about captivating topics, but his take on the combination of violence and drugs may be his best yet. This is a history of conflict and capitalism and how the two are intertwined.  It also provides a fascinating perspective on consumer behavior and the creation of our drugged culture.  Beautifully written, this book is both scholarly and wonderfully entertaining.  A great read!"—Miguel A. Centeno, Vice Dean and Musgrave Professor of Sociology, Woodrow Wilson School of Public and International Affairs, Princeton University
"Ingeniously plotted, briskly written, and strikingly illustrated, Killer High delivers a kaleidoscopic trip through the history of drugs and war. Peter Andreas looks at the drug-war relationship from every angle: how combatants and noncombatants used drugs; how wars were fought through, for, or against drugs; and how wars shaped the fates of drugs, often speeding their rise as global commodities."—David Courtwright, author of Forces of Habit and The Age of Addiction
"Killer High frees history from the names-and-dates straightjacket and looks more deeply at why we fight.  From the drinking binges of Alexander the Great to anti-drug campaigns in Afghanistan and Latin America, it illuminates the hidden relationship between drugs and war.  By reimagining the past so insightfully, it helps us understand the conflicts of today and tomorrow."—Stephen Kinzer, Senior Fellow in International and Public Affairs, Watson Institute, Brown University, and former foreign correspondent,  New York Times 
"Peter Andreas is that rare political scientist who can weave serious and compelling historical arguments and who writes with the breadth and clarity of a public intellectual. Killer High is a killer book—the definitive work on the history of drugs and warfare." - Paul Gootenberg, Stony Brook University, author of Andean Cocaine: The Making of a Global Drug