Vendor- Mosqueda, Andrea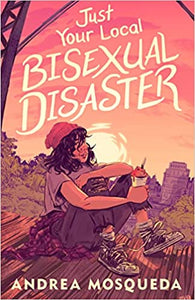 Just Your Local Bisexual Disaster
Mosqueda, Andrea
Regular price $18.99 Sale
Growing up in Texas's Rio Grande Valley, Maggie Gonzalez has always been a little messy, but she's okay with that. After all, she has a great family, a goofy group of friends, a rocky romantic history, and dreams of being a music photographer. Tasked with picking an escort for her little sister's quinceañera, Maggie has to face the truth: that her feelings about her friends―and her future―aren't as simple as she'd once believed.

As Maggie's search for the perfect escort continues, she's forced to confront new (and old) feelings for three of her friends: Amanda, her best friend and first-ever crush; Matthew, her ex-boyfriend twice-over who refuses to stop flirting with her, and Dani, the new girl who has romantic baggage of her own. On top of this romantic disaster, she can't stop thinking about the uncertainty of her own plans for the future and what that means for the people she loves.

As the weeks wind down and the boundaries between friendship and love become hazy, Maggie finds herself more and more confused with each photo. When her tried-and-true medium causes more chaos than calm, Maggie needs to figure out how to avoid certain disaster―or be brave enough to dive right into it, in Just Your Local Bisexual Disaster.
Hardcover, May 24th 2022