Vendor- Roost Books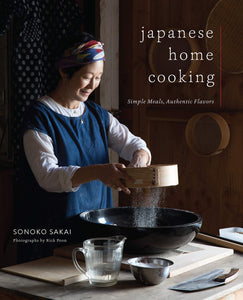 Japanese Home Cooking: Simple Meals, Authentic Flavors, by Sonoko Sakai
Roost Books
Regular price $40.00 Sale
The essential guide to Japanese home cooking—the ingredients, techniques, and over 100 recipes—for seasoned cooks and beginners who are craving authentic Japanese flavors.

Using high-quality, seasonal ingredients in simple preparations, Sonoko Sakai offers recipes with a gentle voice and a passion for authentic Japanese cooking. Beginning with the pantry, the flavors of this cuisine are explored alongside fundamental recipes, such as dashi and pickles, and traditional techniques, like making noodles and properly cooking rice. Use these building blocks to cook an abundance of everyday recipes with dishes like Grilled Onigiri (rice balls) and Japanese Chicken Curry.

From there, the book expands into an exploration of dishes organized by breakfast; vegetables and grains; meat; fish; noodles, dumplings, and savory pancakes; and sweets and beverages. With classic dishes like Kenchin-jiru (Hearty Vegetable Soup with Sobagaki Buckwheat Dumplings), Temaki Zushi (Sushi Hand Rolls), and Oden (Vegetable, Seafood, and Meat Hot Pot) to more inventive dishes like Mochi Waffles with Tatsuta (Fried Chicken) and Maple Yuzu Kosho, First Garden Soba Salad with Lemon-White Miso Vinaigrette, and Amazake (Fermented Rice Drink) Ice Pops with Pickled Cherry Blossoms this is a rich guide to Japanese home cooking. Featuring stunning photographs by Rick Poon, the book also includes stories of food purveyors in California and Japan. This is a generous and authoritative book that will appeal to home cooks of all levels.
"This is a beautiful love letter to the simple, soulful foods that bring together family and tradition, seasonality and sustainability. Sonoko Sakai presents the elements of a home-cooked Japanese meal with thoughtfulness and clarity, honoring the deep culinary heritage of Japan and celebrating the provenance of her local ingredients."—Alice Waters

"Sonoko Sakai's passion for the Japanese kitchen is matched only by her generosity as a teacher, and I am so glad to have this book to learn from for the rest of my life."—Francis Lam, Host, The Splendid Table

"Sonoko Sakai's generous book walks us through the nuance and heritage of Japanese cooking in a comprehensive, useful, and soulful way. Japanese Home Cooking makes it so we can achieve amazing results with ease—even when making homemade soba noodles. This book is a must read for any cook looking to tap into the depth of the Japanese culinary tradition."—Travis Lett, author of Gjelina and chef/owner of MTN

"For anyone interested in Japanese home cooking, you could ask for no better teacher than Sonoko Sakai. Her approach is assured, thoughtful, and flexible, all at once. Her clear-as-a-bell recipes, enhanced always with stories from her singularly interesting life, lead to the most remarkable and delicious results. You need this book!"—Rachel Khong, author of Goodbye, Vitamin
SONOKO SAKAI's cooking reflects her rich cultural upbringing. Born in New York and raised by Japanese parents, she lived in many places as a child, including San Francisco, Kamakura, Mexico City, and Tokyo. She is the author of two books, Rice Craft (Chronicle, 2016) and The Poetical Pursuit of Food (Potter, 1986). She has worked as a recipe developer, producer, creative director, cooking teacher, and lecturer. She is also a grain activist. Sonoko currently lives in Los Angeles and Tehachapi, California, with her sculptor husband, Katsuhisa Sakai.
Published November 19, 2019