Vendor- Scharpling, Tom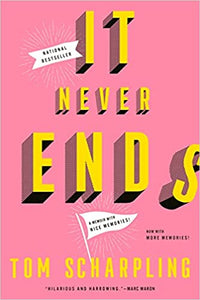 It Never Ends: A Memoir with Nice Memories!
Scharpling, Tom
Regular price $17.00 Sale
From cult comedy icon and beloved radio host Tom Scharpling, an inspiring, funny, and thoughtful memoir

It Never Ends is Tom Scharpling's harrowing memoir of his coming of age, a story he has never told before. It's the heartbreaking account of his attempt at suicide, two stays in a mental hospital, and the memory-wiping electroshock therapy that saved his life. After his rehabilitation, Scharpling committed himself to reinvention through the world of comedy. In this book he will lift the curtain on the turmoil that still follows him, despite all of his accolades and achievements. In the vein of candid memoirs from comedians like Mike Birbiglia's Sleepwalk with Me and Norm Macdonald's Based on a True Story, It Never Ends is a revealing book by a beloved comedy icon.
Paperback, July 26th 2022