Vendor- Scribner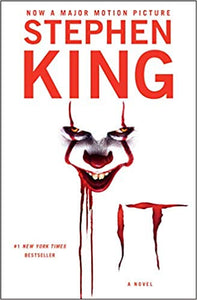 It
Scribner
Regular price $19.99 Sale
Stephen King's terrifying, classic #1 New York Times bestseller, "a landmark in American literature" (Chicago Sun-Times)—about seven adults who return to their hometown to confront a nightmare they had first stumbled on as teenagers…an evil without a name: It.

Welcome to Derry, Maine. It's a small city, a place as hauntingly familiar as your own hometown. Only in Derry the haunting is real.

They were seven teenagers when they first stumbled upon the horror. Now they are grown-up men and women who have gone out into the big world to gain success and happiness. But the promise they made twenty-eight years ago calls them reunite in the same place where, as teenagers, they battled an evil creature that preyed on the city's children. Now, children are being murdered again and their repressed memories of that terrifying summer return as they prepare to once again battle the monster lurking in Derry's sewers.

Readers of Stephen King know that Derry, Maine, is a place with a deep, dark hold on the author. It reappears in many of his books, including Bag of Bones, Hearts in Atlantis, and 11/22/63. But it all starts with It.


"A landmark in American literature.", Chicago Sun-Times

"It will overwhelm you…Characters so real you feel you are reading about yourself…scenes to be read in a well-lit room only.", Los Angeles Times

"The indisputable King of Horror.", Time Magazine

"A mesmerizing odyssey of terror…King writes like one possessed, never cheats the reader, always gives full measure…He is brilliant…dark and sinister.", The Washington Post Book World

"Vintage King…a magnum opus of terror…just a glance at the first few pages, and you can't put this novel aside.", St. Louis Post-Dispatch

"A great scary book…a nightmare roller-coaster…packed with more chills than a Frigidaire… 'It' turns out to be the monster-dread in us all, the one that refuses to go away.", San Francisco Chronicle

"Epic…gargantuan…breathlessly accelerating suspense… King is our great storyteller…I imagine him as a possessed figure rocking over a smoking word processor, hunting for a beat his sentences can dance to, pounding the shocks and scares like a rock organist laying down the power chords.", Los Angeles Herald-Examiner
"Stephen King's most mature work" (St. Petersburg Times), "It will overwhelm you…to be read in a well-lit room only" (Los Angeles Times).
Paperback, July 30, 2019