Vendor- Kimmelman, Michael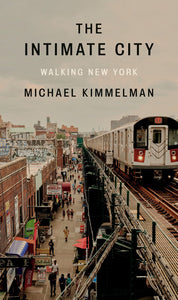 Intimate City: Walking New York
Kimmelman, Michael
Regular price $30.00 Sale
As New York came to a halt with COVID, Michael Kimmelman composed an email to a group of architects, historians, writers, and friends, inviting them to take a walk. Wherever they liked, he wrote—preferably someplace meaningful to them, someplace that illuminated the city and what they loved about it. At first, the goal was distraction. At a scary moment when everything seemed uncertain, walking around New York served as a reminder of all the ways the city was still a rock, joy, and inspiration. What began with a lighthearted trip to explore Broadway's shuttered theater district and a stroll along Museum Mile when the museums were closed soon took on a much larger meaning and ambition. These intimate, funny, richly detailed conversations between Kimmelman and his companions became anchors for millions of 
Times
 readers during the pandemic. The walks unpacked the essence of urban life and its social fabric—the history, plans, laws, feats of structural engineering, architectural highlights, and everyday realities that make up a place Kimmelman calls "humanity's greatest achievement."

Filled with stunning photographs documenting the city during the era of COVID, 
The Intimate City
 is the ultimate insider's guide. The book includes new walks through LGBTQ Greenwich Village, through Forest Hills, Queens, and Mott Haven, in the Bronx. All the walks can be walked, or just be read for pleasure, by know-it-all New Yorkers or anyone else. They take readers back to an age when Times Square was still a beaver pond and Yankee Stadium a salt marsh; across the Brooklyn Bridge, for green tea ice cream in Chinatown, for momos and samosas in Jackson Heights, to explore historic Black churches in Harlem and midcentury Mad Men skyscrapers on Park Avenue. A kaleidoscopic portrait of an enduring metropolis, 
The Intimate City

 
reveals why New York, despite COVID and a long history of other calamities, continues to inspire and to mean so much to those who call it home and to countless others.