Vendor- Lim, Louisa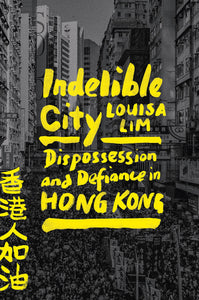 Indelible City: Dispossession and Defiance in Hong Kong
Lim, Louisa
Regular price $28.00 Sale
The story of Hong Kong has long been dominated by competing myths: to Britain, a 'barren rock' with no appreciable history; to China, a part of Chinese soil from time immemorial, at last returned to the ancestral fold.   For decades, its history was simply not taught, especially to Hong Kongers, obscuring its origins as a place of refuge and rebellion.

When protests erupted in 2019 and were met with escalating suppression from Beijing, Louisa Lim—raised in Hong Kong as a half-Chinese, half-English child, and now a reporter who has covered the region for more than a decade—realized that she was uniquely positioned to unearth Hong Kong's untold stories.

Lim's deeply researched and personal account casts startling new light on key moments: the British takeover in 1842, the negotiations over the 1997 return to China, and the future Beijing seeks to impose. Indelible City features guerrilla calligraphers, amateur historians and archaeologists and others who, like Lim, aim to put Hong Kongers at the center of their own story. Wending through it all is the King of Kowloon, whose iconic street art both embodied and inspired the identity of Hong Kong—a site of disappearance and reappearance, power and powerlessness, loss and reclamation.
Released April 19, 2022