Vendor- Yarmysh, Kira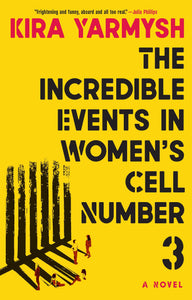 Incredible Events in Women's Cell Number 3
Yarmysh, Kira
Regular price $27.00 Sale
The Incredible Events in Women's Cell Number 3 is the debut novel by Kira Yarmysh that follows a young woman, Anya, who is arrested at a Moscow anti-corruption rally, and, under false charges, sentenced to a ten-day stretch at a special detention center.
In a large barren room furnished only with communal bunkbeds, Anya meets her cellmates: five ordinary Russian women arrested on petty charges. They come from all strata and experiences of Russian society, and as they pass the long hours waiting to be released, they slowly build trust and companionship while sipping lukewarm tea from plastic cups and playing games. Above all, they talk: about politics, feminism, their families, their sexualities, and how to make the most of prison life. Yet as the waking days stretch listlessly before Anya, soon she is plagued by strange nightmarish visions and begins to wonder if her cellmates might not actually be as ordinary as they seem. Will the façade of everyday life ultimately crack for good?
A brilliant exploration of what it means to be marginalized both as an independent woman in general and in an increasingly intolerant Russia in particular, and a powerful prison story that renews a grand Russian tradition, The Incredible Events in Women's Cell Number 3 introduces one of the most urgent and gripping new voices in international literature.
Hardcover, Feb 7th 2023