Vendor- Europa Editions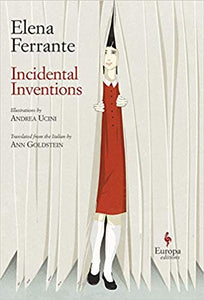 Incidental Inventions, by Elena Ferrante
Europa Editions
Regular price $20.00 Sale
Elena Ferrante is the best-selling author of My Brilliant Friend, now an HBO original series. Collected here for the first time are the seeds of future novels, the timely reflections of this internationally beloved storyteller, the abiding preoccupations of a writer who has been called "one of the great novelists of our time" (New York Times).
"This is my last column, after a year that has scared and inspired me . . . I have written as an author of novels, taking on matters that are important to me and that—if I have the will and the time—I'd like to develop within real narrative mechanisms."
With these words, Elena Ferrante bid farewell to her year-long collaboration with the Guardian newspaper. For a full year, she wrote weekly articles, the subjects of which had been suggested by Guardian editors, making the writing process a sort of prolonged interlocution. The subjects ranged from first love to climate change, from enmity among women to the experience of seeing her novels adapted for film and TV.
Translated by Ann Goldstein, the acclaimed translator of Ferrante's novels, and accompanied by Andrea Ucini's intelligent, witty, and beautiful illustrations, this volume is a must for all curious readers.
"Ferrante can talk about politics, history, philosophy, sexuality, loneliness, and I willingly go with her, without ever questioning it. I don't know any [other] writer who can do that."—Beth Nguyen, San Francisco Chronicle
"Ferrante's writing seems to say something that hasn't been said before—it isn't easy to specify what this is—in a way so compelling its readers forget where they are, abandon friends and disdain sleep."—Joanna Biggs, The London Review of Books
"Ferrante, in her unflinching willingness to lead us toward 'the mutable fury of things' places the readers inside intimate relations between with an irresistible and urgent immediacy."—Roger Cohen,The New York Review of Books
"Reading Ferrante is an extraordinary experience. There's a powerful and unsettling candor in her writing."—Nick Romeo, The Boston Globe
Elena Ferrante is the author of The Days of Abandonment (Europa, 2005), Troubling Love (Europa, 2006), The Lost Daughter (Europa, 2008), and the international bestselling novel in four installments known as The Neapolitan Quartet (My Brilliant Friend, The Story of a New Name, Those Who Leave and Those Who Stay, The Story of the Lost Daughter, Europa 2012-2015). She is also the author of Frantumaglia: A Writer's Journey, and a children's picture book illustrated by Mara Cerri, The Beach at Night.
Ann Goldstein has translated into English all of Elena Ferrante's books, including each of the New York Times bestselling installments in Ferrante's Neapolitan quartet, the fourth of which, The Story of the Lost Child, was shortlisted for the MAN Booker International Prize. She has been honored with a Guggenheim Fellowship and is a recipient of the PEN Renato Poggioli Translation Award. She lives in New York.
Andrea Ucini is a self-taught illustrator, born and raised in Italy and now living in the countryside of Hundested, Denmark, near Copenhagen, with his wife, three children, and plenty of animals. He works in a studio surrounded by Danish nature, and the changing seasons.
Released November 19, 2019