Vendor- Impossible Foods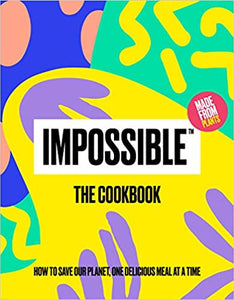 Impossible™: The Cookbook: How to Save Our Planet, One Delicious Meal at a Time, by Impossible Food Editors
Impossible Foods
Regular price $29.99 Sale

Cook Impossible

™

 

at home.

 

Meat-loving gourmets stood in line for hours when the world's top chefs began serving Impossible Burger in 2016. Now, for the first time, these pioneering chefs have joined forces with Impossible Foods' team of culinary leaders to share 40 recipes that are taking the culinary world by storm – and saving the planet, too.  

Explore dishes and expert tips from

 

Brad Farmerie, Chris Cosentino, Eric Wareheim, Jamie Bissonnette, Ken Oringer, Kwame Onwuachi, Mary Sue Milliken, May Chow, Michael Symon, Tanya Holland, Traci Des Jardins, and more.

Delicious recipes include:
Pan Fried Chive Dumplings
Korean Bulgogi
Vietnamese Phó
Lasagna Bolognese
Spicy Jalapeño Burgers
Chili Cheese Fries
And more!
See how top chefs around the world are cooking Impossible Foods' award-winning meat made from plants – with all the mouthwatering flavor, but only a tiny fraction of the environmental impact of meat made from cows. 

"All cookbooks have recipes. The best have recipes and ideas. This cookbook thinks hard about the relationship between plants and the planet, between humans and other living beings, all the while making that hard thinking easy for the rest of us. It's a cookbook that's great to look at and fun to read, but don't forget to do the most important thing: cook from it!" – Questlove