Vendor- Farrar, Straus and Giroux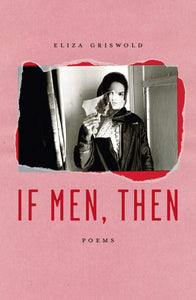 If Men, Then, by Eliza Griswold
Farrar, Straus and Giroux
Regular price $24.00 Sale
A darkly humorous new collection of poems by the Pulitzer Prize–winning journalist and author of Wideawake Field and Amity and Prosperity
Released February 11, 2020.

If Men, Then, Eliza Griswold's second poetry collection, charts a radical spiritual journey through catastrophe. Griswold's language is forthright and intimate as she steers between the chaos of a tumultuous inner world and an external landscape littered with SUVs, CBD oil, and go bags, talismans of our time. Alternately searing and hopeful, funny and fraught, the poems explore the world's fracturing through the collapse of the ego, embodied in a character named "I"―a soul attempting to wrestle with itself in the face of an unfolding tragedy.
Eliza Griswold is the author of an acclaimed first book of poems, Wideawake Field, as well as The Tenth Parallel: Dispatches from the Fault Line Between Christianity and Islam, which won the 2011 J. Anthony Lukas Book Prize. Her translations of Afghan women's folk poems, I Am the Beggar of the World, was awarded the 2015 PEN Award for Poetry in Translation. She has held fellowships from the New America Foundation, the Guggenheim Foundation, and Harvard University, and in 2010 the American Academy in Rome awarded her the Rome Prize for her poems. Griswold, currently a Distinguished Writer in Residence at New York University, is also the author of Amity and Prosperity: One Family and the Fracturing of America, which was named a New York Times Book Review Notable Book of 2018, one of The Washington Post's 50 Notable Works of Nonfiction for 2018, and a New York Times Editors' Choice. She was awarded the Pulitzer Prize in General Nonfiction in 2019.