Vendor- Krenak, Ailton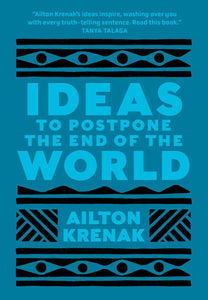 Ideas to Postpone the End of the World
Krenak, Ailton
Regular price $14.95 $14.95 Sale
Indigenous peoples have faced the end of the world before. Now, humankind is on a collective march towards the abyss. Global pandemics, extreme weather, and massive wildfires define this era many now call the Anthropocene.
From Brazil comes Ailton Krenak, renowned Indigenous activist and leader, who demonstrates that our current environmental crisis is rooted in society's flawed concept of "humanity" — that human beings are superior to other forms of nature and are justified in exploiting it as we please.
To stop environmental disaster, Krenak argues that we must reject the homogenizing effect of this perspective and embrace a new form of "dreaming" that allows us to regain our place within nature. In Ideas to Postpone the End of the World, he shows us the way. 
Released October 6, 2020