Vendor- Watkins, Claire Vaye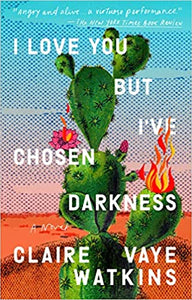 I Love You but I've Chosen Darkness
Watkins, Claire Vaye
Regular price $17.00 Sale
A darkly funny, soul-rending novel of love in an epoch of collapse—one woman's furious revisiting of family, marriage, work, sex, and motherhood.
Since my baby was born, I have been able to laugh and see the funny side of things. a) As much as I ever did. b) Not quite as much now. c) Not so much now. d) Not at all.
 Leaving behind her husband and their baby daughter, a writer gets on a flight for a speaking engagement in Reno, not carrying much besides a breast pump and a spiraling case of postpartum depression. Her temporary escape from domestic duties and an opportunity to reconnect with old friends mutates into an extended romp away from the confines of marriage and motherhood, and a seemingly bottomless descent into the past. Deep in the Mojave Desert where she grew up, she meets her ghosts at every turn: the first love whose self-destruction still haunts her; her father, a member of the most famous cult in American history; her mother, whose native spark gutters with every passing year. She can't go back in time to make any of it right, but what exactly is her way forward? Alone in the wilderness, at last she begins to make herself at home in the world.

Bold, tender, and often hilarious, 
I Love You but I've Chosen Darkness
 reaffirms Watkins as one of the signal writers of our time.