Vendor- Andrews McMeel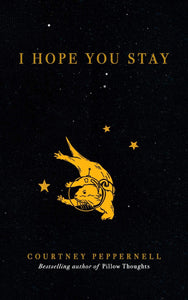 I Hope You Stay, by Courtney Peppernell
Andrews McMeel
Regular price $16.99 Sale
In the spirit of her bestselling series, Pillow Thoughts, Courtney Peppernell returns with a new, empowering collection of poetry and prose. From heartbreak to dreaming of and finding a new love to healing the heart to ultimately finding peace, the themes in this book are universal but also uniquely individual to readers.

Just as moving and endearing as Peppernell's previous books, I Hope You Stay is a reminder of the resilience and hope needed after heartache and pain. The book is divided into five sections, with poems ranging from free verse to short form. These words are a light in the deepest hours of the night: Hold on. The sun is coming.  
Courtney Peppernell is an LGBT author from Sydney, Australia. In October 2016, she released the bestselling poetry collection Pillow Thoughts. Courtney has been writing her whole life and currently writes young adult novels and poetry collections. In February 2017, she released her second novel, Keeping Long Island. In August 2017, she published Pillow Thoughts and The Road Between. In August 2018, Courtney published Pillow Thoughts II: Healing The Heart. Courtney is working on two new poetry collections and two new novels. When Courtney isn't writing, she enjoys exploring, listening to music, drinking coffee, and hanging out with her two dogs, Hero and Dakota, and her cat, Bailey.
Released March 3, 2020