Vendor- Caparros, Martin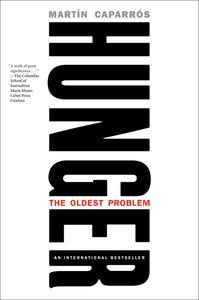 Hunger: The Oldest Problem
Caparros, Martin
Regular price $32.00 $32.00 Sale
There are now over 800 million starving people in the world. An average of 25,000 men and women, and in particular children, perish from hunger every day. Yet we produce enough food to feed the entire human population one-and-a-half times over.
So why is it that world hunger remains such a deadly problem?

In this crucial and inspiring work, award-winning author Martín Caparrós travels the globe in search of an answer. His investigation brings him to Africa and the Indian subcontinent where he witnesses starvation first-hand; to Chicago where he documents the greed of corporate food distributors; and to Buenos Aires where he accompanies trash scavengers in search of something to eat.

An international bestseller when it first appeared, this first-ever English language edition has been updated by Caparrós to consider whether conditions that have improved or worsened since the book's European publication.

With its deep reflections and courageous journalism, Caparrós has created a powerful and empathic work that remains committed to ending humankind's longest ongoing crisis.
Released February 25, 2020