Vendor- Palmer, Soraya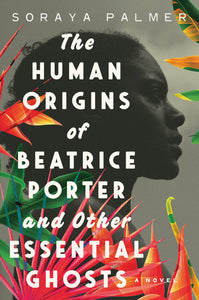 Human Origins of Beatrice Porter and Other Essential Ghosts
Palmer, Soraya
Regular price $27.00 Sale

Sisters Zora and Sasha Porter are drifting apart. Bearing witness to their father's violence and their mother's worsening illness, an unsettled Zora escapes into her journal, dreaming of being a writer, while Sasha discovers sex and chest binding, spending more time with her new girlfriend than at home.

But the sisters, like their parents, must come together to answer to something more ancient and powerful than they know—and reckon with a family secret buried in the past. A tale told from the perspective of a mischievous narrator, featuring the Rolling Calf who haunts butchers, Mama Dglo who lives in the ocean, a vain tiger, and an outsmarted snake, The Human Origins of Beatrice Porter and Other Essential Ghosts is set in a world as alive and unpredictable as Helen Oyeyemi's.

Telling of the love between sisters who don't always see eye to eye, this extraordinary debut novel is a celebration of the power of stories, asking, What happens to us when our stories are erased? Do we disappear? Or do we come back haunting?
Hardcover, March 28th 2023