Vendor- Phillips, Steve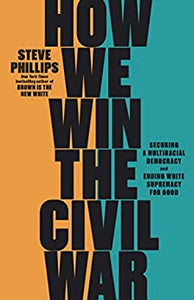 How We Win the Civil War: Securing a Multiracial Democracy and Ending White Supremacy for Good
Phillips, Steve
Regular price $28.99 Sale
Steve Phillips's first book, Brown Is the New White, helped shift the national conversation around race and electoral politics, earning a spot on the New York Times and Washington Post bestseller lists and launching Phillips into the upper ranks of trusted observers of the nation's changing demographics and their implications for our political future.
Now, in How We Win the Civil War, Phillips charts the way forward for progressives and people of color after four years of Trump, arguing that Democrats must recognize the nature of the fight we're in, which is a contest between democracy and white supremacy left unresolved after the Civil War. We will not overcome, Phillips writes, until we govern as though we are under attack—until we finally recognize that the time has come to finish the conquest of the Confederacy and all that it represents.
With his trademark blend of political analysis and historical argument, Phillips lays out razor-sharp prescriptions for 2022 and beyond, from increasing voter participation and demolishing racist immigration policies to reviving the Great Society programs of the 1960s—all of them geared toward strengthening a new multiracial democracy and ridding our politics of white supremacy, once and for all.
Hardcover, Oct 18th 2022