Vendor- Underhill, Paco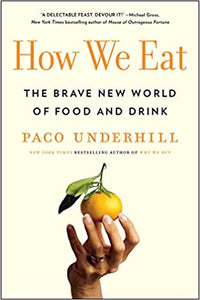 How We Eat: The Brave New World of Food and Drink
Underhill, Paco
Regular price $27.00 Sale
Our food system—how we produce, process, distribute, and consume food—is broken. But we have the opportunity to do better. Market researcher and bestselling author Paco Underhill sets out to solve these problems and show us where our eating and driving lives are headed in his newest book, 
How We Eat
. Hailed by the 
San Francisco Chronicle
as "a Sherlock Holmes for retailers," Underhill takes an upbeat, hopeful, and characteristically witty approach to how we can change the way we consume. 
How We Eat
reveals the future of food in surprising ways, like how the city is getting country-fied with the rise of farmer's markets and rooftop farms; how supermarkets are on their way out with their most valuable real estate, their parking lot, for growing their own food and hosting community events; and how marijuana farmers, who have been using artificial light to grow a crop for years, have developed a playbook so mainstream merchants and farmers across the world can grow food in an uncertain future.
Paco Underhill is the expert behind the most prominent brands, consumer habits, and market trends and the author of multiple highly acclaimed books, including 
Why We Buy
. In 
How We Eat
, he shows how food intersects with every major battle we face today, from political and environmental to economic and racial, and invites you to the market to discover more.