Vendor- Wehle, Kim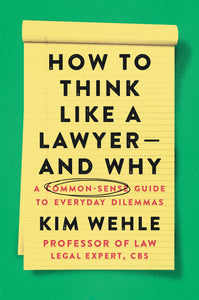 How to Think like a Lawyer (and why): A Common-Sense Guide to Everyday Dilemmas
Wehle, Kim
Regular price $16.99 Sale
Lawyers aren't like other people. They often argue points that are best left alone or look for mistakes in menus "just because." While their scrupulous attention to detail may be annoying, it can also be a valuable skill. 
Do you need to make health care decisions for an aging parent but are unsure where to start? Are you at crossroads in your career and don't know how to move forward? Have you ever been on a jury trying to understand confusing legal instructions? How to Think Like a Lawyer has the answers to help you cut through the confusion and gain an advantage in your everyday life. Kim Wehle identifies the details you need to pay attention to, the questions you should ask, the responses you should anticipate, and the pitfalls you can avoid. Topics include: 
Selling and buying a home

Understanding employment terms

Creating a will and health care proxy

Navigating health concerns

Applying for financial aid

Negotiating a divorce
Wehle shows you how to break complex issues down into digestible, easier-to-understand pieces that will enable you to make better decisions in all areas of your life.
Paperback, Feb 22nd 2022