Vendor- Challenger, Melanie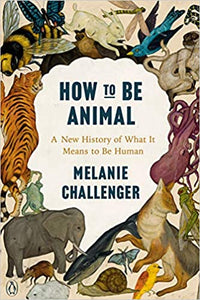 How to be Animal: A New History of What it Means to be Human
Challenger, Melanie
Regular price $16.99 Sale
Human are the most inquisitive, emotional, imaginative, aggressive, and baffling animals on the planet. But we are also an animal that does not think it is an animal. How well do we really know ourselves?

How to Be Animal tells a remarkable story of what it means to be human and argues that at the heart of our existence is a profound struggle with being animal. We possess a psychology that seeks separation between humanity and the rest of nature, and we have invented grand ideologies to magnify this. As well as piecing together the mystery of how this mindset evolved, Challenger's book examines the wide-reaching ways in which it affects our lives, from our politics to the way we distance ourselves from other species. We travel from the origin of homo sapiens through the agrarian and industrial revolutions, the age of the internet, and on to the futures of AI and human-machine interface. Challenger examines how technology influences our sense of our own animal nature and our relationship with other species with whom we share this fragile planet.

That we are separated from our own animality is a delusion, according to Challenger. Blending nature writing, history, and moral philosophy, How to Be Animal is both a fascinating reappraisal of what it means to be human, and a robust defense of what it means to be an animal.
Paperback 3/23/21