Vendor- Roy, Sumana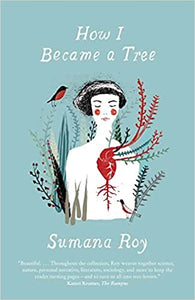 How I Became a Tree
Roy, Sumana
Regular price $16.00 Sale
"I was tired of speed. I wanted to live to tree time." So writes Sumana Roy at the start of How I Became a Tree, her captivating, adventurous, and self-reflective vision of what it means to be human in the natural world.

Drawn to trees' wisdom, their nonviolent way of being, their ability to cope with loneliness and pain, Roy movingly explores the lessons that writers, painters, photographers, scientists, and spiritual figures have gleaned through their engagement with trees—from Rabindranath Tagore to Tomas Tranströmer, Ovid to Octavio Paz, William Shakespeare to Margaret Atwood. Her stunning meditations on forests, plant life, time, self, and the exhaustion of being human evoke the spacious, relaxed rhythms of the trees themselves.

Hailed upon its original publication in India as "a love song to plants and trees" and "an ode to all that is unnoticed, ill, neglected, and yet resilient," How I Became a Tree blends literary history, theology, philosophy, botany, and more, and ultimately prompts readers to slow down and to imagine a reenchanted world in which humans live more like trees.
Paperback