Vendor- Sherriff, R.C.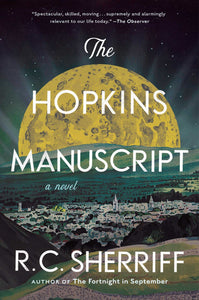 Hopkins Manuscript
Sherriff, R.C.
Regular price $18.00 Sale
Edgar Hopkins is a retired math teacher with a strong sense of self-importance, whose greatest pride is winning poultry-breeding contests. When not meticulously caring for his Bantam, Edgar is an active member of the British Lunar Society. Thanks to that affiliation, Edgar becomes one of the first people to learn that the moon is on a collision course with the earth.

Members of the society are sworn to secrecy, but eventually the moon begins to loom so large in the sky that the truth can no longer be denied. During these final days, Edgar writes what he calls "The Hopkins Manuscript"—a testimony juxtaposing the ordinary and extraordinary as the villagers dig trenches and play cricket before the end of days.

First published in 1939, as the world was teetering on the brink of global war, R.C. Sherriff's classic science fiction novel is a timely and powerful missive from the past that captures human nature in all its complexity.
Paperback, Jan 17th 2023