Vendor- Sen, Amartya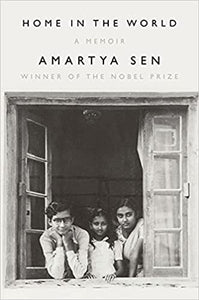 Home in the World: A Memoir
Sen, Amartya
Regular price $30.00 Sale
The Nobel laureate Amartya Sen is one of a handful of people who may truly be called "a global intellectual" (Financial Times). A towering figure in the field of economics, Sen is perhaps best known for his work on poverty and famine, as inspired by events in his boyhood home of West Bengal, India. But Sen has, in fact, called many places "home," including Dhaka, in modern Bangladesh; Kolkata, where he first studied economics; and Trinity College, Cambridge, where he engaged with the greatest minds of his generation.
In Home in the World, these "homes" collectively form an unparalleled and profoundly truthful vision of twentieth- and twenty-first-century life. Here Sen, "one of the most distinguished minds of our time" (New York Review of Books), interweaves scenes from his remarkable life with candid philosophical reflections on economics, welfare, and social justice, demonstrating how his experiences―in Asia, Europe, and later America―vitally informed his work. In exquisite prose, Sen evokes his childhood travels on the rivers of Bengal, as well as the "quiet beauty" of Dhaka. The Mandalay of Orwell and Kipling is recast as a flourishing cultural center with pagodas, palaces, and bazaars, "always humming with intriguing activities."
With characteristic moral clarity and compassion, Sen reflects on the cataclysmic events that soon tore his world asunder, from the Bengal famine of 1943 to the struggle for Indian independence against colonial tyranny―and the outbreak of political violence that accompanied the end of British rule. Witnessing these lacerating tragedies only amplified Sen's sense of social purpose. He went on to study famine and inequality, wholly reconstructing theories of social choice and development. In 1998, he was awarded the Nobel Prize for his contributions to welfare economics, which included a fuller understanding of poverty as the deprivation of human capability. Still Sen, a tireless champion of the dispossessed, remains an activist, working now as ever to empower vulnerable minorities and break down walls among warring ethnic groups.
Hardcover, Jan 25th 2022