Vendor- Kiefer, Christian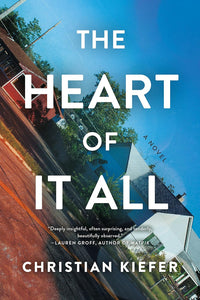 Heart of it All
Kiefer, Christian
Regular price $19.99 Sale
A small, declining town in Ohio. A family bereaved by terrible loss. A searing narrative about how American lives touch each other across divides both real and imagined...

Set in failing small town in central Ohio, The Heart of It All asks how one manages, in an America of increasing division, to find a sense of family and community.

Focusing on the members of three families: the Baileys, a white family who have put down deep roots in the community; the Marwats, an immigrant family that owns the town's largest employer; and the Shaws, especially young Anthony, an outsider whose very presence gently shakes the town's understanding of itself.

A gorgeous, stirring novel in the classic vein of Richard Ford, Marilynne Robinson, Richard Russo, and Kent Haruf, The Heart of It All asks the reader to consider an America both divided and bound by its differences.
Paperback, Sept 12th 2023