Vendor- Insel, Thomas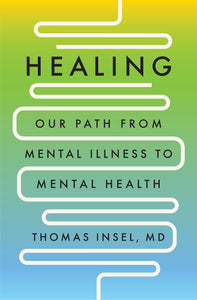 Healing: Our Path from Mental Illness to Mental Health
Insel, Thomas
Regular price $28.00 Sale
As director of the National Institute of Mental Health, Dr. Thomas Insel was giving a presentation when the father of a boy with schizophrenia yelled from the back of the room, "Our house is on fire and you're telling me about the chemistry of the paint! What are you doing to put out the fire?" Dr. Insel knew in his heart that the answer was not nearly enough. The gargantuan American mental health industry was not healing millions who were desperately in need. He left his position atop the mental health research world to investigate all that was broken—and what a better path to mental health might look like.
 
In the United States, we have treatments that work, but our system fails at every stage to deliver care well. Even before COVID, mental illness was claiming a life every eleven minutes by suicide. Quality of care varies widely, and much of the field lacks accountability. We focus on drug therapies for symptom reduction rather than on plans for long-term recovery. Care is often unaffordable and unavailable, particularly for those who need it most and are homeless or incarcerated. Where was the justice for the millions of Americans suffering from mental illness? Who was helping their families?
 
But Dr. Insel also found that we do have approaches that work, both in the U.S. and globally. Mental illnesses are medical problems, but he discovers that the cures for the crisis are not just medical, but social. This path to healing, built upon what he calls the three Ps (people, place, and purpose), is more straightforward than we might imagine. Dr. Insel offers a comprehensive plan for our failing system and for families trying to discern the way forward.
 
The fruit of a lifetime of expertise and a global quest for answers, Healing is a hopeful, actionable account and achievable vision for us all in this time of mental health crisis.
Hardcover