Vendor- Stanford, Claire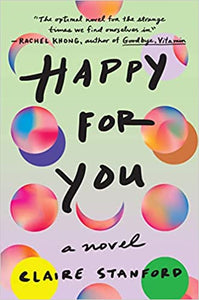 Happy for You
Stanford, Claire
Regular price $27.00 Sale
Four years into writing her still-unfinished philosophy dissertation, and anticipating a marriage proposal from her long-term boyfriend, Evelyn Kominsky Kumamoto is wrestling with big questions about life: How can she do meaningful work in the world? Is she ready for marriage—and motherhood? But no one else around her seems to share her ambivalence. Her relentlessly optimistic, Midwestern boyfriend has no hesitation about making a lifelong commitment; her best friend, Sharky, seems to have wholeheartedly embraced his second-choice career as a trend forecaster; and her usually reserved father has thrown himself headlong into a new relationship—his first since her mother's passing when Evelyn was fourteen. 
 
Swallowing her doubts, Evelyn makes a leap, leaving academia for a job as a researcher at the third-most popular internet company, where her team is tasked with developing an app that will help users quantify and augment their happiness. Confronting Silicon Valley's norm-reinforcing algorithms and predominantly white culture, she struggles to find belonging: as a biracial person, as an Asian American, and as someone who doesn't know how to perform social media's vision of what womanhood should look like. As her misgivings mount, an unexpected development upends her assumptions about her future, and Evelyn embarks on a journey toward an authentic happiness all her own.
 
Wry, touching, and sharply attuned to the ambivalence, atomization, and illusion of control that characterize modern life, 
Happy for You
 is a story of a young woman at a crossroads that movingly explores how, even in this mediated world, our emotions, contradictions, and vulnerabilities have a transformative power we could never predict.