Vendor- Riker, Martin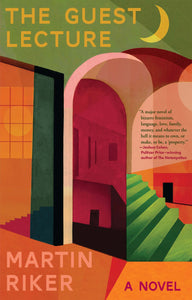 Guest Lecture
Riker, Martin
Regular price $17.00 Sale
In a hotel room in the middle of the night, Abby, a young feminist economist, lies awake next to her sleeping husband and daughter. Anxious that she is grossly underprepared for a talk she is presenting tomorrow on optimism and John Maynard Keynes, she has resolved to practice by using an ancient rhetorical method of assigning parts of her speech to different rooms in her house and has brought along a comforting albeit imaginary companion to keep her on track—Keynes himself.
Yet as she wanders with increasing alarm through the rooms of her own consciousness, Abby finds herself straying from her prepared remarks on economic history, utopia, and Keynes's pragmatic optimism. A lapsed optimist herself, she has been struggling under the burden of supporting a family in an increasingly hostile America after being denied tenure at the university where she teaches. Confronting her own future at a time of global darkness, Abby undertakes a quest through her memories to ideas hidden in the corners of her mind—a piecemeal intellectual history from Cicero to Lewis Carroll to Queen Latifah—as she asks what a better world would look like if we told our stories with more honest and more hopeful imaginations.
With warm intellect, playful curiosity, and an infectious voice, Martin Riker acutely animates the novel of ideas with a beating heart and turns one woman's midnight crisis into the performance of a lifetime. 
Paperback, Jan 24th 2023