Vendor- Powell, Kevin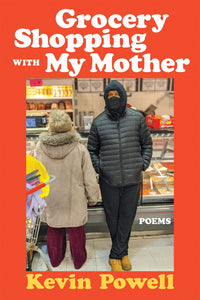 Grocery Shopping with my Mother
Powell, Kevin
Regular price $24.00 Sale
When Kevin Powell's elderly mother became ill, he returned home every week to take her grocery shopping in Jersey City. Walking behind her during those trips, Powell began to hear her voice, stories, and language in a new way—examining his own healing while praying for hers.

Grocery Shopping with My Mother originated as social media posts about these visits and evolved into a breathtaking collection of thirty-two new poems, crafted like an album, plus four bonus tracks celebrating a great love of wordplay. Culturally rooted in the literary traditions of Ntozake Shange and Allen Ginsberg, Powell's poems honor the likes of V (formerly Eve Ensler), bell hooks, and Sidney Poitier.
 
Grocery Shopping with My Mother dives into the complexities of relationships and contemporary themes with honesty and vulnerability. Creatively and spiritually inspired by Stevie Wonder's Songs in the Key of Life, Powell's poems shift in form and style, from praise chants to reverential meditations to, most importantly, innovative hope.
Hardcover, Dec 6th 2022