Vendor- Van Rossum, Maya K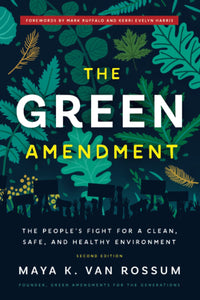 Green Amendment: The People's Fight for a Clean, Safe, and Healthy Environment
Van Rossum, Maya K
Regular price $19.99 Sale
We have reached a critical tipping point in our fight for the environment: Corporations profit off climate change, natural disasters devastate homes, and the most vulnerable suffer the health effects of pollution. Yet our laws are designed to accommodate this destruction rather than prevent it. Without government support, it's no wonder people feel powerless.
But there is a solution. In The Green Amendment, veteran environmentalist Maya K. van Rossum presents her radically simple plan for a green future: bypass local laws and turn to the ultimate authority—our state and federal constitutions—to ensure we have the right to a healthy environment.
Through compelling interviews with activists on the ground, clear evidence from experts, and heartbreaking stories from those hit hardest by environmental ruin, The Green Amendment lights the path forward. In this updated edition of her trailblazing 2017 book, van Rossum invites readers to join the movement by sharing:
Why Green Amendments work where other movements have failed

How to position Green Amendments and what specific language offers the strongest legal protections

How to argue in favor of environmental rights, and the economic and health benefits that will help activists make the case

How Green Amendments address the crucial intersection of environmentalism and anti-racism

What everyone—from artists and students to scientists and lawyer—can do to further the cause
With the power of The Green Amendment, we can claim our environmental rights, ensuring a clean, safe Earth for generations to come.
Paperback, Nov 1st 2022