Vendor- Wayne, Teddy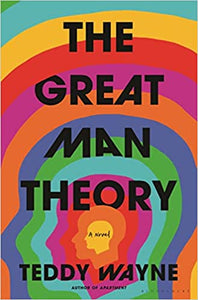 Great Man Theory, The
Wayne, Teddy
Regular price $27.00 Sale
Paul is a recently demoted adjunct instructor of freshman comp, a divorced but doting Brooklyn father, and a self-desc­ribed "curmudgeonly crank" cataloging his resentment of the priorities of modern life in a book called The Luddite Manifesto. Outraged by the authoritarian creeps ruining the country, he is determined to better the future for his young daughter, one aggrieved lecture at a time.

Shockingly, others aren't very receptive to Paul's scoldings. His child grows distant, preferring superficial entertainment to her father's terrarium and anti-technological tutelage. His careerist students are less interested than ever in what he has to say, and his last remaining friends appear ready to ditch him. To make up for lost income, he moonlights as a ride-share driver and moves in with his elderly mother, whose third-act changes confound and upset him. As one indignity follows the next, and Paul's disaffection with his circumstances and society mounts, he concocts a dramatic plan to right the world's wrongs and give himself a more significant place in it.

Dyspeptically funny, bubbling over with insights into America's cultural landscape and a certain type of cast-aside man who wants to rectify it, The Great Man Theory is the work of a brilliant, original writer at the height of his powers.
Hardcover, July 12th 2022