Vendor- Mounk, Yascha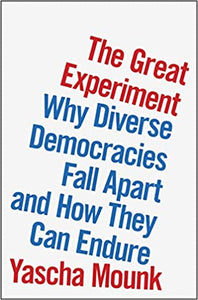 Great Experiment, The: Why Diverse Democracies Fall Apart and How they can Endure
Mounk, Yascha
Regular price $28.00 Sale
Some democracies are highly homogeneous. Others have long maintained a brutal racial or religious hierarchy, with some groups dominating and exploiting others. Never in history has a democracy succeeded in being both diverse and equal, treating members of many different ethnic or religious groups fairly. And yet achieving that goal is now central to the democratic project in countries around the world. It is, Yascha Mounk argues, the greatest experiment of our time.
 
Drawing on history, social psychology, and comparative politics, Mounk examines how diverse societies have long suffered from the ills of domination, fragmentation, or structured anarchy. So it is hardly surprising that most people are now deeply pessimistic that different groups might be able to integrate in harmony, celebrating their differences without essentializing them. But Mounk shows us that the past can offer crucial insights for how to do better in the future. There is real reason for hope.
 
It is up to us and the institutions we build whether different groups will come to see each other as enemies or friends, as strangers or compatriots. To make diverse democracies endure, and even thrive, we need to create a world in which our ascriptive identities come to matter less—not because we ignore the injustices that still characterize the United States and so many other countries around the world, but because we have succeeded in addressing them.
 

The Great Experiment
 is that rare book that offers both a profound understanding of an urgent problem and genuine hope for our human capacity to solve it. As Mounk contends, giving up on the prospects of building fair and thriving diverse democracies is simply not an option—and that is why we must strive to realize a more ambitious vision for the future of our societies.