Vendor- Ruden, Sarah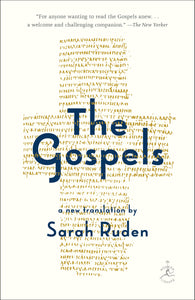 Gospels, The: A New Translation
Ruden, Sarah
Regular price $18.99 Sale
NAMED ONE OF THE BEST BOOKS OF THE YEAR BY PUBLISHERS WEEKLY

Since nearly two millennia ago, the first four books of the New Testament have been formative texts for the modern world. 

The Gospels of Matthew, Mark, Luke, and John tell of the life and ministry of Jesus. These four separate versions of the same story show complex origins, intricate interweavings, and inherent contradictions. 

Faithfully pointing the reader back to the original Greek, this masterful new translation from the renowned scholar and acclaimed translator Sarah Ruden is the first to reconsider the Gospels as books to be read and understood on their own terms: grounded in contemporary languages, literatures, and cultures, full of their own particular drama, humor, and reasoning, and free from later superimposed ideologies. 

The result is a striking and persuasive reappraisal of the accounts of these four authors, and presents a new appreciation of the ancient world as the foundation of our modern one. This robust and eminently readable translation is a welcoming ground on which a variety of readers can meet, and a resource for new debate, discussion, and inspiration for years to come.
Paperback, feb 14th 2023