Vendor- Faleiro, Sonia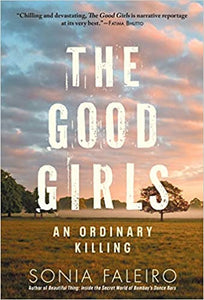 Good Girls, The
Faleiro, Sonia
Regular price $26.00 Sale
By the award-winning writer of Beautiful Thing, a masterly inquest into how the mysterious deaths of two teenage girls shone a light into the darkest corners of a nation.
The girls' names were Padma and Lalli, but they were so inseparable that people in the village called them Padma Lalli. Sixteen-year-old Padma sparked and burned. Fourteen-year-old Lalli was an incorrigible romantic.
They grew up in Katra Sadatganj, an eye-blink of a village in western Uttar Pradesh crammed into less than one square mile of land. It was out in the fields, in the middle of mango season, that the rumors started.
Then one night in the summer of 2014 the girls went missing; and hours later they were found hanging in the orchard. Who they were, and what had happened to them, was already less important than what their disappearance meant to the people left behind.
In the ensuing months, the investigation into their deaths would implode everything that their small community held to be true, and instigate a national conversation about sex and violence. Slipping deftly behind political maneuvering, caste systems and codes of honor in a village in northern India, The Good Girls returns to the scene of Padma and Lalli's short lives and shameful deaths, and dares to ask: what is the human cost of shame?
Hardcover 2/9/21